Engine Co. 8
Engine 8 / Forestry 2 - 280 East Industrial Park Drive
Upon completion of the new Station 8, the department received in January of 2003 two pieces of apparatus for the station, one being a E-One Pump w/ Aerial. The truck's compliment included: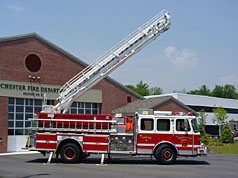 Former Engine 8
450 HP Cummins Diesel power plant
2000 gpm pump
500 gallon water tank
65 foot telesquirt electronically or radio-remote operated)with a vertical reach 65 ft. and a horizontal each of 60 ft.
The delivery system also included:
Hale Foam Master Pro
(2) 30 gallon tanks containing class A & B agents
The frame of this apparatus rotted out and the pump was disposed of after 15 years of service.
Forestry 2:
The department accepted a second forestry truck to be stationed at the Cohas Brook Fire Station.
2003 Ford F-550 all-wheel drive with a 17,500 GVWR pkg.
250 HP 7.3L V8 turbo diesel engine
4 speed auto transmission
4.88 limited slip rear axle
Ramsey 12,000 Lb. Electric Winch (fore and aft)
Forestry 2
The water flowing delivery system includes:
-Hale Centrifugal Pump
4 cycle gasoline engine with
capabilities of
110 gpm @ 150 psi, 50 gpm @
250 psi
290 gallon gallon water tank with
foam capabilities
Staffing at Station 8 does not comply with National Staffing Standards.
Page Last Updated: Jul 08, 2023 (18:25:10)